Case study
Induction and Onboarding.
Age Restricted Sales Training is mandatory wherever alcohol is sold. When one of Ireland's biggest retailers wanted to ensure that staff were fully trained in Age Restricted Sales Training, they worked with One World Learning. Working together we tailored our existing solutions to meet their requirements. Elearning makes it easy to train geographically dispersed people in a very short timeframe.
When working with large companies, elearning delivery and management must be automated, the Age Restricted Sales Training course was hosted and available from our learning management solution. Training is easy when you have the right tools!
---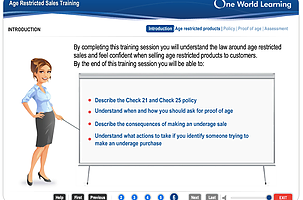 Bringing new people on board has challenges. Elearning makes it easier, people are learning within minutes. The easy to follow content explains what is expected and how people can contribute to your company's success. It means everybody is given the same critical information.
Contact us to discuss your project requirements.
Contact us